The International Hoplology Society (IHS) is dedicated to the study of the evolution and development of human combative behavior.
Three Axioms of Hoplology
Evolution, predatory and affective behavior and the use of weapons are the basis for the three axioms of hoplology. read more
Spartan Training Center.
Located in Sedona, AZ is open. Courses in Combat Conditioning are being offered.
ICS Classes at the Spartan Training Center, Sedona, Arizona.
The Combat Mindset Course (CTAP) is being offered.
August 1-5, 2007 and in December 2007 (exact dates to be determined).
Contact Hunter B Armstrong at hoplos@esedona.net for more information.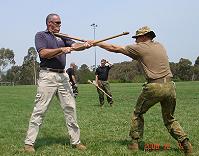 Australian Army Military Defense instructors train in the ICS Combative Mindset Program. Read article...
VIDEO ARCHIVES - Patrick Lineberger has created a library of video images of Classical Japanese martial traditions. For more information on the library, contact Patrick directly at PL1942@msn.com
The Silambam art is said to have its origins in India 5000 years ago. The art traces its history back to the Krunji Mountains located in South India. Read on...
IHS Field trips to Northern Ethiopia and Rajasthan
Field trips to Northern Ethiopia and Rajasthan are currently in the planning stages for 2008. The objective in Ethiopia would be to do an initial field survey of weapons and systems of the area. The objective in Rajasthan is to follow-up on work initially begun in 2003. Contact Hunter B Armstrong at hoplos@esedona.net if you have information or would like to comment.
PBS Documentary The Marines
This documentary examines the rich history and unique Warrior Culture of the United States Marine Corps. The Marine Corps "Warrior Ethos" is engrained into Marines from their earliest training. The program focuses on the training of Marines and considers what it takes to become a Marine and what it means to be a Marine. It also examines the nature of the strong bond that Marines have to one another and to the Corps.
www.shoppbs.org/product/index.jsp?productId=2608146#Details

Marine Corps Times Article, April 16, 2007
Interesting Reading: "A History of Violence" by Steven Pinker.
Two additions to the IHS monograph library, one by Donn Draeger on "Belief Systems in Japanese Martial Culture pt. 1," and the other on Sir Richard Francis Burton, the 19th century pioneer in hoplology, by Paul Nurse. order
TWO FACES
OF COMBATIVES
The semininal article on Combative Behavior.
by Hunter B Armstrong.
---
---
Combat Training
Colonel George Bristol, USMC, took time to reflect on the preparation of Marines for combat in Iraq. "Simple is what killing is, whether with a spear or a JDAM."
---